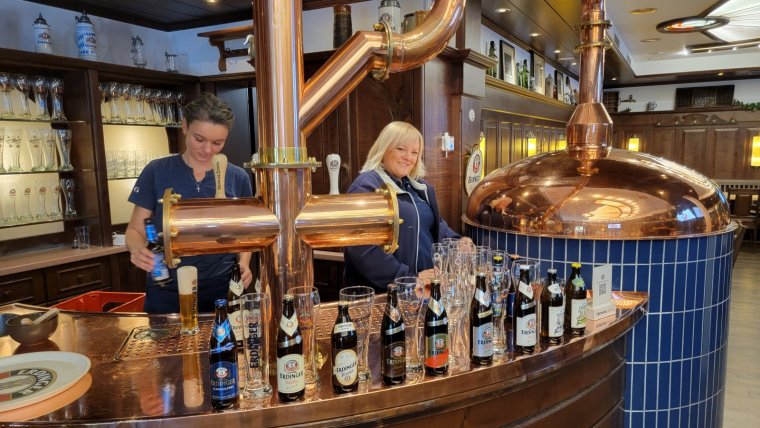 Our recent

Brewtopia Tours

trip to the 2022 Oktoberfest in Munich brought the group into Bavaria a day early to recover from jet lag. Staying for one night in a Munich airport hotel, our group's choice of an early bonus beer experience was easy. We grabbed some taxis and headed to the nearby town of Erding to enjoy a marvelous tour and tasting at the world-renowned Privatbrauerei Erdinger Weißbräu Werner Brombach - a classic beer producer known for its namesake Bavarian wheat beers.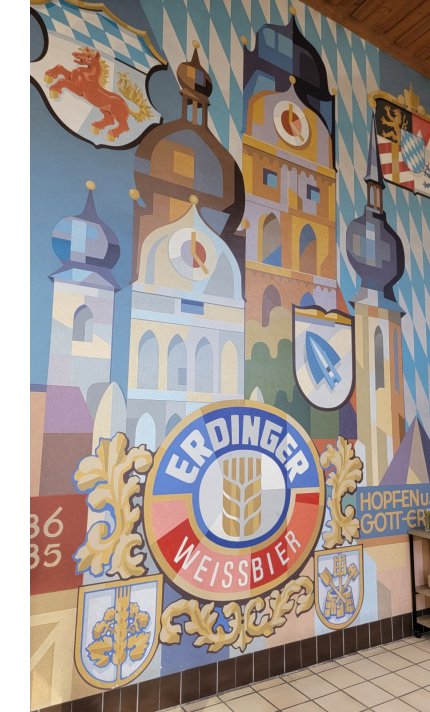 Some participants on our Bavaria tours express the opinion that wheat beers are not their favorite. This state of mind evaporates immediately after one sip of the extraordinarily fresh and satisfying wheat beers available in the region. Erdinger did not disappoint.

Erdinger's wheat beers express wonderful, complex notes of refreshing banana and clove weizen yeast fermentation character. These lightly-hopped wheat beers boast a high level of carbonation, wheat and cereal grain notes, a dry finish, fluffy mouthfeel and a typical ABV range of 4.3-5.6%. Adding some caramelized malts to the wheat beer recipe produces a darker version known as Dunkles Weissbier. Boosting the fermentable sugars produces a higher alcohol version of the style called Pinkantus Weizen-Bock. Erdinger also produces flavorful non-alcoholic wheat ales.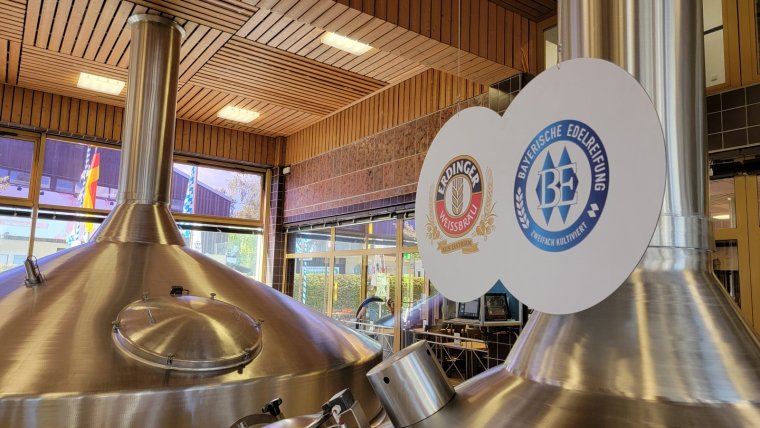 The Erdinger experience begins in the brewery's "fan shop" where visitors can purchase all types of Erdinger merchandise and fresh beer to take home. An experienced guide takes groups on a fun and educational walk through the brewery and the history of Erdinger Weissbiers. See the brew kettles, warehouses, bottling line and massive distribution bays.

After the tour, beer fans experience the full range of Erdinger wheat beers alongside traditional Bavarian snacks in the brewery's atmospheric tasting room. Savor the brewery's flavorful range of wheat beers alongside traditional white sausages and massive pretzels. Including the tasting, Erdinger's tours last around three hours. See more information on booking a tour by clicking

HERE

.