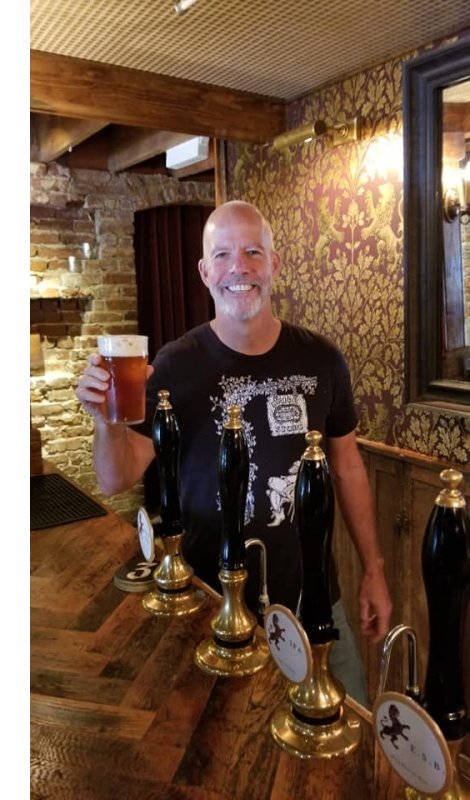 By Owen Ogletree
Around two years ago, Dave Blanchard walked up the stairs of his popular and pioneering Brick Store Pub in Decatur, Georgia. He glanced to the right at the small, non-descript seating area at the top of the stairs, and an ingenious plan popped into his mind. He thought, "Why not bring a tiny bit of England to this small section of Brick Store?" The journey toward the pub's beloved cask ale bar had begun.
Brick Store Pub opened its doors over 25 years ago with a mission of spreading the love for classic craft beer styles in Decatur and Atlanta. The laid-back main bar serves outstanding draft craft beers alongside a creative and eclectic pub food menu. Several years ago, the owners installed a beautiful Belgian-themed bar upstairs to the left and a vintage beer cellar room to the right that houses prized high-gravity bottles at a cool 50 degrees F. The pandemic then tasked the Brick Store with creating a lovely outdoor beer garden in the backyard that boasts a Bavarian-like setting. All that seemed missing was a little flavor of the British Isles.
A FIRKIN BRAINSTORM
Brick Store co-owner Dave Blanchard shared the idea of a small upstairs cask ale bar with business partners Mike Gallagher and Tom Moore. 10.8-gallon "firkin" casks could be stored in the chilled vintage cellar, with an insulated pipe running through the wall to supply cask ales to handpump taps on a compact bar in the seating area at the top of the stairs. Gallagher and Moore seemed not too optimistic about the success of this venture but agreed to let Blanchard give it a go. No one expected the impressive level of success that the Brick Store's cask ale bar would achieve since it opened almost a year ago.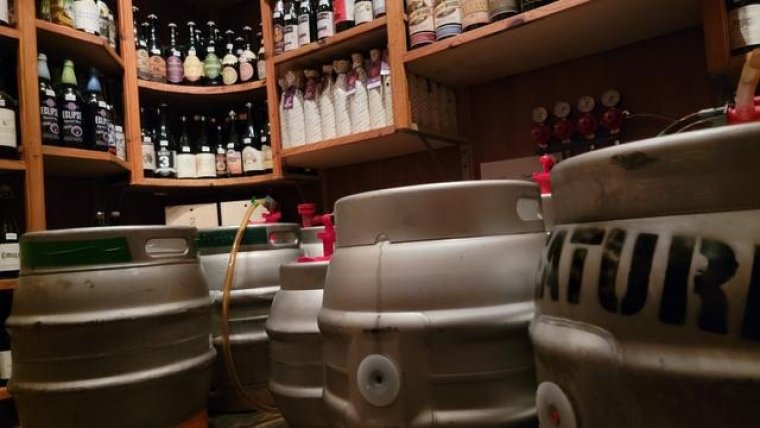 Cask ale was not new to the Brick Store. Most days, the downstairs bar offered a cask ale, and many customers seemed interested and supportive. "When we started in 1997, the first cask we put on downstairs was Blind Man Espresso Stout from Athens, Georgia," notes Blanchard. "I've traveled to the UK several times and came across some beautiful beers. For me, it's more about the culture of the pub, how the beer is drawn, and the traditions involved. People now come upstairs to our new cask bar who have never seen an English-style beer engine handpump, and it's fun to explain the process. Once you've tasted a proper cask ale, you get hooked."
Blanchard was never thrilled with the former vibe of the seating space at the top of the stairs, and creating a cask ale destination there seemed like the perfect solution. "Before COVID, this area was a small dining space without the energy, intimacy and appeal of our Belgian bar," Blanchard explains. "I saw it as kind of a purgatory area. We talked about the vintage cellar providing a cool place to house the casks, and the idea of building a bar and popping the plumbing through the wall made lots of sense. We had to get the measurements down to within inches to install this cask bar and the new seating."
SOURCING THE RARE ALES
Once the cask bar was built-out, plumbed, and decorated like a classic UK pub, Blanchard began locating excellent quality cask ales from independent regional breweries. This task presented a bit of a challenge at first, but as soon as word began to spread about the unique vibe of the cask bar, local breweries began lining up to fill firkins. Blanchard adds, "We now have great relationships with many impressive craft breweries nearby."
Along with a bunch of new cask bar devotees, Blanchard now enjoys spending time in the new area. "The whole project has been fulfilling," he says. "The cask bar is centrally located where customers can look down into the restaurant. People love having English and European soccer on the television behind the beer engines, and the cask ales have been extraordinary. Most brewers love cask ale and want others to love it as well."
A challenge for local breweries making special, traditional brews for the Brick Store has been how to sell the remainder of the beer that doesn't go into firkins for the pub. Unfortunately, English mild ale, bitter, ESB and UK golden ale styles don't currently create a great deal of excitement with younger craft beer drinkers who frequent brewery taprooms. Blanchard notes, "The nearby Three Taverns Brewery made us three firkins of a delicious clone of the UK's Old Peculier Ale. Our firkins were consumed in only three days, but the rest of the beer on tap at Three Taverns took a while to sell out. Halfway Crooks brewery has a small test system to brew one-barrel batches, and they've used this to create some firkins for us a couple of times."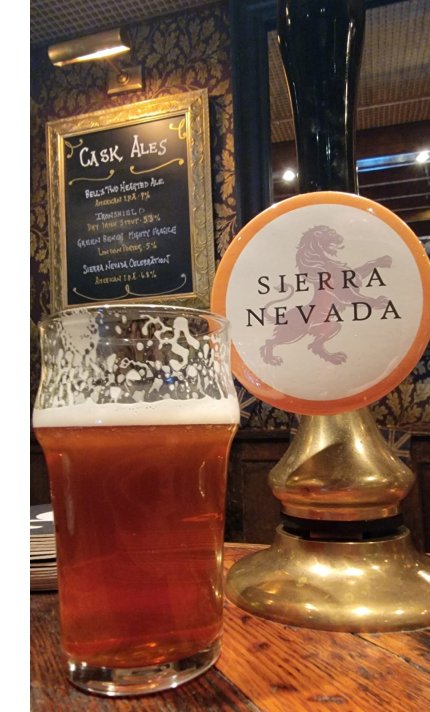 Other breweries supplying mouth-watering cask ales to the Brick Store include Wild Heaven Beer, Monday Night Brewing, Arches Brewing, Green Bench, Bell's and New Realm. Blanchard was pumped when Sierra Nevada in North Carolina agreed to keep the Brick Store stocked with casks of its exceptional unfiltered pale ale with Cascade dry-hops in each cask. Blanchard recalls, "A couple of Sierra Nevada brewers were in Atlanta for a meeting, and they stopped by Brick Store to check out the new cask bar. When they were impressed enough to immediately get on board, I knew our cask bar would succeed."
CASKS ARE CHALLENGING BUT SO WORTH IT
Neil Callaghan, beer manager at the Brick Store, has been thrilled with the public's reception of the cask bar. He notes that the contagious excitement for cask ale among the staff spreads quickly to customers. "The success of our cask bar shows that the consumer understands and appreciates the uniqueness of the program and how great cask ale can be," he says. "Our biggest challenges with the cask bar include planning ahead, coordinating between the different breweries, and keeping an inventory of firkins. We just can't look at distributor inventory sheets and order firkins like we do kegs. Casks are special."
Blanchard loves that some local breweries are now filling casks with fabulous UK beer styles made from ingredients on hand. Creature Comforts in Athens, Georgia, produced an exceptional clone of Timothy Taylor Landlord ale made with American hops and barley along with the classic Timothy Taylor yeast from the UK. The beer, known as Vujà Dé Landlord, inspired Creature Comforts to recently install its own UK cask cooler and beer engine in the Athens taproom.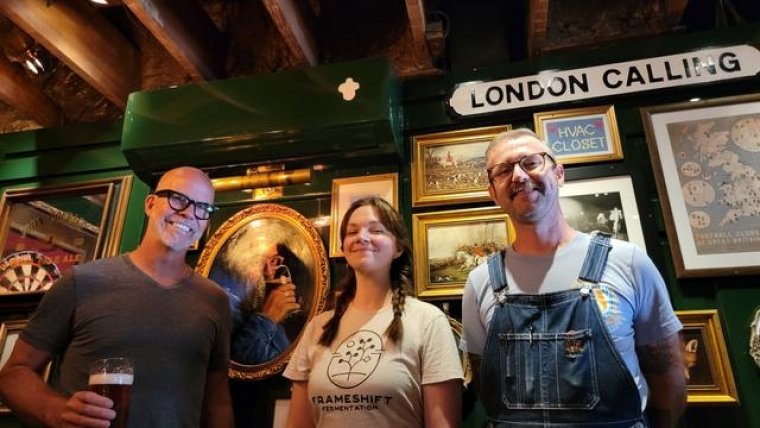 Blanchard, Zaboroskie, and Callaghan

Sam Zaboroskie has served as Brick Store's general manager for two years. Her favorite aspect of the cask bar is sharing samples and educating customers. She notes, "In a typical week, I can share so much love of cask ales with our patrons. Customers seem to think more about what they are drinking while they sit in this intimate and cozy atmosphere."
Blanchard devoted many hours to ensuring that every little detail of the cask bar came across as perfect. The cask bar pays loving homage to English pub traditions, from the dartboard and hidden television that pops out for English football to the classic UK pub wallpaper and eclectic photos that adorn the walls. "The atmosphere of the cask bar is just so pleasant and authentic," Blanchard adds. "It's amazing that every time professional brewers show up, they head straight to the cask bar. This is the greatest validation for the project that I could ever hope for."
Read more in the online edition of: