By Owen Ogletree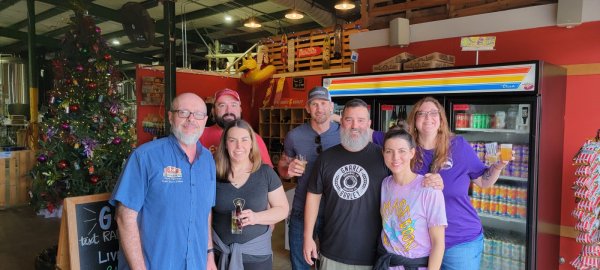 For people who enjoy craft beer, there's no better way to see a city than through "craft beer tourism." When checking out a town's top brewery and pub locations, travelers typically become exposed to the area's best entertainment centers, restaurants, sights, culture and people. Folks wanting to make the most of their beer travels on a limited budget should note the following valuable tips.
When visiting a new city for a "beercation," it's usually best to start with breakfast and visits to the city's best non-beer tourist sites in the morning. After all, you can't drink beer all day. TripAdvisor.com offers excellent recommendations and reviews regarding a city's top restaurants and visitor attractions. Following lunch for a good food base, visits to breweries and pubs crank up in the afternoon.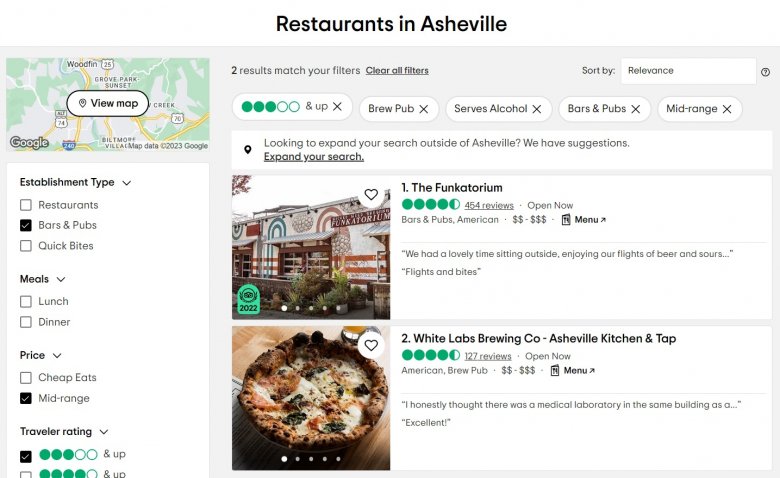 TripAdvisor Screenshot

Do the Research
Be sure to conduct plenty of pre-planning for any beercation. Google makes an excellent source to scope out a city's best breweries and read reviews. If you are a fan of the Untappd app, try to check the overall scores for each brewery in a destination. Keep in mind that delicious, old-school classic beer styles and the breweries that produce them often score a bit lower on Untappd than more trendy styles and locales, so approach the app's scores and reviews with a grain of salt.
Start in the Southeast
With its excellent airports and multitude of cities with concentrations of craft beer breweries and pubs, the southeastern United States makes for an easy and approachable introduction to craft beer tourism. Once you've mastered domestic beercations, expand your beery travel horizons to international destinations such as Canada, Ireland, England, Amsterdam, Belgium, Germany and the Czech Republic. Remember to apply for a passport well in advance.
Just a few favorite craft beer hubs of the Southeast include New Orleans, Louisiana; Birmingham, Alabama; Nashville, Tennessee; Atlanta and Athens, Georgia; Greenville and Charleston, South Carolina; Tampa, Florida; and the extraordinary beer mecca of Asheville, North Carolina. Don't overextend yourself on a beer trip. It's usually best to pick a city hub, score a nice hotel room or B&B and focus on the central breweries, taprooms and outstanding beer-centric pubs and restaurants in the area. Use Google as a resource for figuring out the hours of each business, as there's nothing worse than showing up to a closed taproom.
Safety ranks as the most important consideration on a beer trip. Designate a non-imbibing driver, do lots of walking and use taxis, public transportation and ride-share options like Uber and Lyft. GoogleMaps provides extensive timetables and route planning, making logistics and daily public transport scheduling easy. For a nominal fee, many beer-centric cities in the Southeast offer shuttle buses that drive participants around to various breweries in town.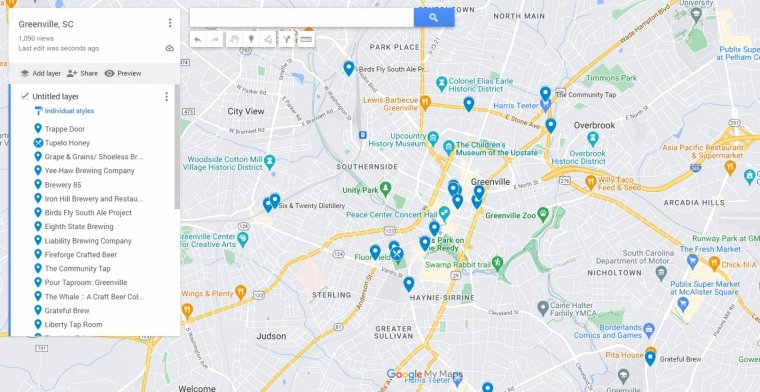 Google My Maps Screenshot

Map Your Spots
As a helpful part of Google Documents, Google My Maps allows users to create personalized digital maps of cities that users can mark with "pins" to keep track of hotels, tourist spots and all interesting craft beer locations. Google My Maps can be loaded on smartphones, allowing beer travelers easy navigation to targeted points. Loading a Google My Map with a multitude of points of interest is extremely quick and straightforward. You'll never miss or forget a brewery destination again.
Budget Flying Means More Beer Money
Beer travelers wanting to save money should subscribe to air travel discount email newsletters such as Going (formerly Scott's Cheap Flights), Thrifty Traveler, Kayak or Google Flights. A useful rule of thumb is to find a deep airline discount to an interesting city, book it, and then figure out all the best destinations there. You'll end up seeing the world on a budget. Picking a location and hoping for a sale fare usually means travelers will pay more.
If you have a solid beer destination in mind that currently requires an expensive air ticket, set up price drop alerts online. Kayak, Skyscanner, Google Flights and Airfarewatchdog.com will send email alerts when airfares go on sale for a specific destination and date.
Affording more air travel to beer destinations involves being loyal to a major airline that possesses a hub in a nearby city. If you fly this airline enough to get a frequent flyer status boost to a superior level, you'll be rewarded with free upgrades, mileage boosts, companion fare certificates, sale fares and access to lounges with free food and drinks. For instance, if you frequently fly out of Atlanta, Delta should be your go-to airline. Atlanta-area beer travelers should also remember also to search Delta flights from Birmingham or Greenville (South Carolina), as these will usually connect in Atlanta and can sometimes provide substantial savings over flying direct. Charlotte (North Carolina) and Miami rank as major hubs for American Airlines.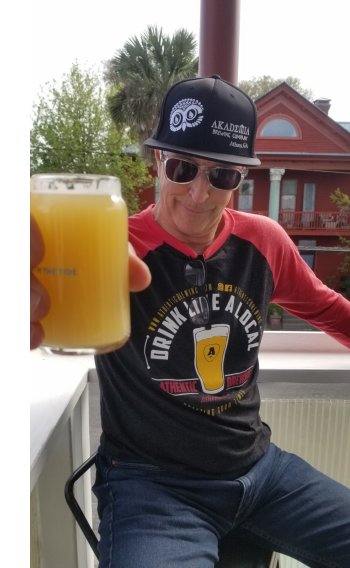 Points and Miles from Credit Cards
It's frustrating that actual flying doesn't earn you miles significantly, especially when booking the least expensive fares. These days, airlines award miles based on the amount of money the ticket costs rather than actual flying mileage. To rack up travel points for a beer trip, people should focus on earning points through everyday credit card spending.
Once you've picked your loyalty airline in your hub city, do a bit of online research regarding credit cards that provide generous mileage bonuses based on monthly spending on the card. For example, the Delta Skymiles American Express offers huge mileage additions based on your spending. Sure, the card charges about a couple of hundred dollars a year as a membership fee, but frequent flyers will get this back several times over with free mileage air tickets, complimentary checked bags and annual companion fare certificates. Other cards, such as the Chase Sapphire Preferred Card, allow customers to designate bonus points toward miles with many airlines and hotel chains. Both cards offer generous airline mileage bonuses just for signing up and spending a certain amount during the first months. It's essential to pay off the balances on these cards in full at the end of each billing cycle. Finance charges can be costly and negate mileage bonuses quickly. If travel is a priority, use your mileage bonus credit card to pay for as many of your monthly purchases as you can, then watch your airline miles add up.
Do You Really Need a Rental Car?
The best advice regarding rental cars would be to avoid renting a car unless absolutely necessary. With convenient rideshare options available in most cities, who wants to be responsible for driving a rental car on a beer trip anyway? It can be stressful, inconvenient and unsafe. Also, car rental companies are masters of squeezing every penny out of customers. If you must rent a car, compare prices from several companies on websites such as Kayak, Expedia or Orbitz. Avoid shady, off-brand rental companies with low review scores, as these companies make money by forcing unnecessary options on customers, offering subpar vehicles and sometimes charging you for previous damage you didn't cause.
Use a credit card at the car rental counter that offers full vehicle coverage, and decline the expensive car rental company insurance fees. Check with your credit card company and home car insurance firm to be sure you are fully covered. Never agree to pay more at the counter for a vehicle upgrade. Most times, the agents will push you to pay for a more expensive car because the cheaper car you booked is unavailable. You'll end up getting the upgrade for free in the end. Companies will also push you to pay for the full tank of gas that comes with the car so you won't have to fill the tank before returning the car. Never do this. Always bring the car back full. Imagine paying the rental company for an entire tank of fuel when picking up the car and then returning the vehicle with a half-full tank. Don't throw your money away.
When picking up a rental car, always make time to take a detailed video or photos of any preexisting dings or damage. Remember to look at the wheels and roof of the vehicle and check inside for damage to seats and windows. Without damage documentation before driving off, you could be charged for damage that you did not cause.
Where to Stay?
Use discount travel search sites like Hotwire, Kayak, Booking.com, Vrbo, Agoda and TripAdvisor to find the best hotel deals. If hotel rooms in a particular city cost a fortune, consider other options like Airbnb that can put extra beer money in your pocket. When two couples or a group of four or so friends team up for a beer excursion, getting a two-bedroom house or apartment on Airbnb can save a ton over booking two expensive hotel rooms. If you are a government employee or belong to AAA or AARP, check the hotel's website for special discounts.
When enjoying a beercation, always remember to stay safe and in tune with your body. Drinking lots of water, taking vitamin B supplements and spacing out beer stops with walking or food breaks go a long way in avoiding hangovers and not becoming "beered out." Splitting a beer flight with a friend during a brewery visit allows beer travelers to try a wide range of brews instead of just gulping down a pint. Above all, have fun and enjoy your beery travels!
Owen Ogletree has spent over 35 years traveling the world in search of exceptional craft beer. To join one of his popular and affordable group beer excursions,

CLICK HERE.
Originally Published in: