Article by Owen Ogletree
Photos courtesy of Brick Store Pub and Jim Smith
L-R: Brick Store owners Tom Moore, Mike Gallagher and Dave Blanchard.

1997 saw the American craft beer movement just starting to take hold. Three buddies from Athens, Georgia (Dave Blanchard, Mike Gallagher and Tom Moore) had decided to open a specialty beer pub on a slightly downtrodden block in downtown Decatur, Georgia. Many people thought the three guys were nuts. No one predicted how the Brick Store Pub would help change the face of craft beer in Georgia, bring new life to the area and become one of the nation's best craft beer bars.
The Brick Store's front door leads into the atmospheric and welcoming main bar that's loaded with delectable craft beers, while the stairs to the left of the bar take patrons up to the atmospheric Belgian Bar that pours an exceptional range of hand-picked Belgian beers from taps and bottles. The pub's indoor areas have been impacted by the COVID pandemic, much like other bars and restaurants. The creative and resourceful Brick Store owners adapted and kept the craft beer, tasty food and genial fun flowing without hesitation.
The pandemic has undoubtedly changed life for the owners and staff of Brick Store. Tedious details, constant attention to keeping surfaces extra sanitary, preparing more take-out food, dealing with limited indoor seating and managing a large beer garden leads to long hours and anxiety among the staff. Mike Gallagher says that what is at the core of the Brick Store has not changed. "We continue to offer wonderful food and drinks, welcome people into a great atmosphere and offer the highest level of hospitality. Overcoming anxiety and indecision while trying to protect our families, our staff, our customers and our business has been challenging."
Challenges During COVID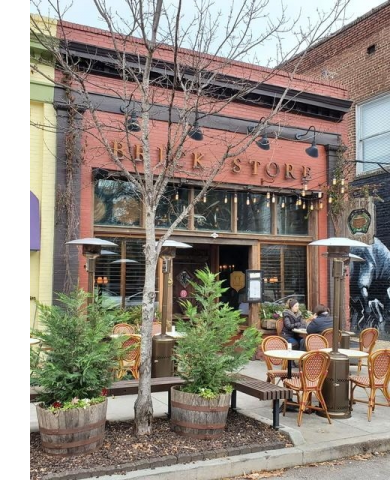 Regular Brick Store patrons know that the owners and staff run a top-notch establishment with strict attention to detail. Customer safety during COVID has not been an exception, and strict guidelines were implemented that include masks, social distancing, frequent hand washing and a "one guest at a time limit" in the bathrooms.
Dave Blanchard notes, "Our workers are serious about these measures, and we know these guidelines have worked extremely well so far. We love getting daily compliments from our guests regarding our attention to safety."
Along with increased sanitary practices and social distancing, the Brick Store owners continue to monitor ever-changing safety updates and recommendations. Mike Gallagher adds, "We put in an air purification system and do frequent filter changes on our HVAC system. We always have doors open and windows cracked for airflow. Training our staff and holding each other accountable for being vigilant with these procedures have been important."
What's Old is New Again
Patrons who have not visited the Brick Store in a few months will be surprised by the changes since COVID hit. In February, renovations for the entire pub began with new furniture and fixtures, updated kitchen equipment, an overhauled beer system and new booths and seating arrangements downstairs. The cozy upstairs Belgian Bar has been temporarily closed since the initial pandemic shutdown, but the owners hope to find a safe way to reopen it within a few weeks.
Brick Store has set up QR codes around the pub that allow customers to point cameras to view the menus. Customers are encouraged to keep visits to 90 minutes or less, and opening hours have been shortened. "We still have a great seasonal food menu and killer beer list, and we're selling more cocktails than ever," notes Gallagher.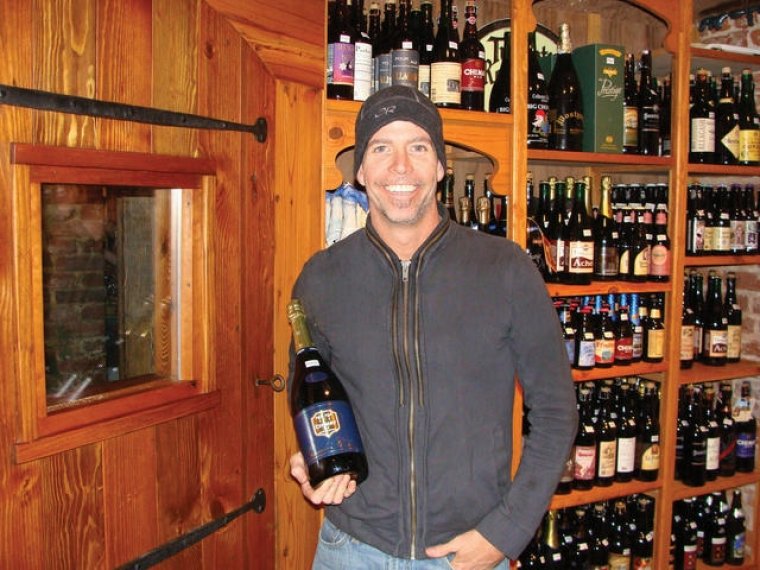 A Light in the Darkness
Lessons learned by Brick Store's staff during the pandemic revolve around patience, open-mindedness, creativity and digging deep. "
We've put new emphasis on listening to staff, guests, science and our community," Blanchard declares.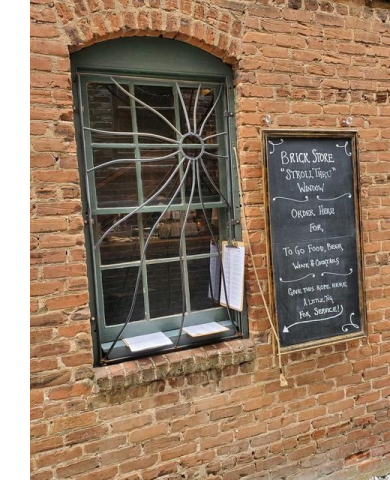 When asked if anything positive has come from this pandemic experience, the Brick Store owners answer with resounding positivity. "Aside from extra time to accomplish many renovations, we've been able to reconnect with the pub, the staff and the guests," Blanchard explains. "It's been an unforgettable 'we're all in this together' type of experience, and we haven't worked this hard since we first opened. We've come up with new ideas that will benefit us forever. Our exterior 'stroll through' window and beer garden are two prime examples of ideas that would have never happened if not for the pandemic."
Brick Store even opened a type of "soup kitchen" back in early March that served the staff and community. Free food gave the pub a chance to open its doors for those in need, and the owners all admit that this felt really good. Blanchard says he is "counting down the days until we can show everyone all we've done and how good the Brick Store Pub will be for the next whole bunch of years."
The establishment of a new beer garden to the rear of the pub formed a significant epiphany for Gallagher. "Our staff pushed the idea of a beer garden, and it has worked out so well that I imagine it will always be there," he says. "It has been a special and magical place for staff and guests to gather safely, and it has enabled us during this pandemic to continue to feel like we are a hub for our community."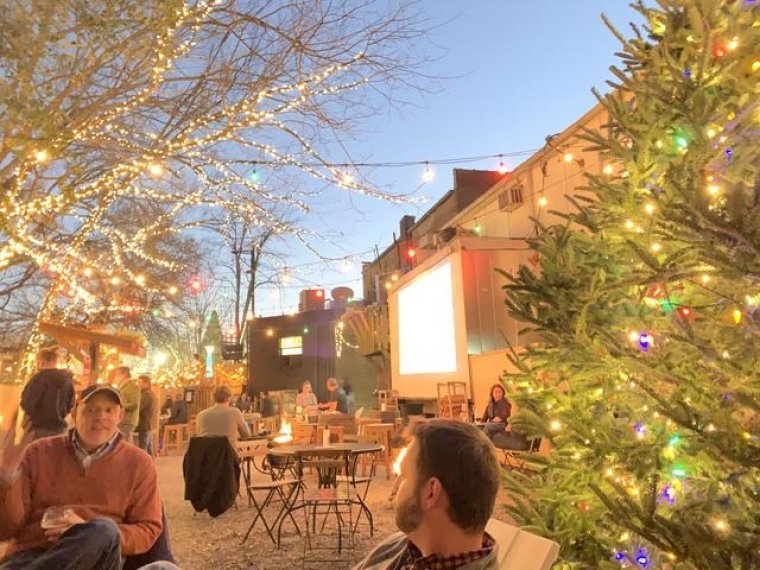 Emerging from the Pandemic
Where does the Brick Store go from here? What does the future hold? With a passionate desire to keep the pub on the public's radar as a world-class craft beer destination, the owners never seem to rest on their accomplishments. This goal involves remaining true to their original vision, making the most of each situation, keeping the staff employed and earning trust and dollars from guests. "I think it's been huge for us to be able to buy from small local farms, breweries and distilleries," Gallagher notes. "If we want to still have these small businesses around on the other side of the pandemic, we need to continue to spend our money this way. This fills our hearts and allows us to offer the best and freshest beer and food while supporting our friends."
The Brick Store owners would like to thank all their loyal customers for the overwhelming support and positive feedback during the last few months. Readers looking for a safe pub can rest assured that the Brick Store has all the bases covered. Blanchard adds, "Our hearts are full from all the love and support we've received, and we hope to return this love to everyone for a very long time to come."
Gallagher tears up as he describes the amazing support shown by the community. "From the bottom of my heart, I want to thank everyone who donated to our GoFundMe for our staff, ordered food to go and enjoyed our beer garden, pub and front patio. We absolutely would not be here without your support - and this includes not only dollars spent but also the good wishes, the cheering us on, the letters and all the small gestures of encouragement."
Blanchard, Gallagher and Moore have established long-term, deep and meaningful friendships over the years through their pub. Brick Store patrons won't be surprised to see everyone at the pub wearing a mask, but the owners hope that everyone will sense the smiles underneath.