Tucker Brewing Company
Dunkelweisse
I like the German-inspired lagers and ales at Tucker Brewing, and the brewery's dark wheat ale ranks as one of my favorites. Expect a brown color, 5.4% ABV and appropriate flavor notes of clove, allspice and banana. This underappreciated style takes me back to Munich with its dark caramel character, toasted wheat notes and hints of bubblegum from the Bavarian wheat yeast.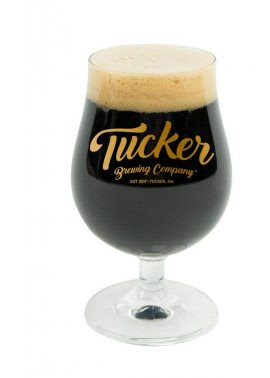 Tucker Brewing Company
Sir Doppelbock
Tucker hit it out of the park with this popular strong bock that boasts a gorgeous brown hue with ruby highlights. This magnificent lager packs impressive notes of toasty Munich malt and European dark malts. There's no trendy BS with this classic brew, and elegant malts provide a slightly sweet finish with nuances of roasted nuts, toffee and floral noble hops. Head to the brewery's patios to enjoy this amazing lager before it's gone.
Wild Heaven Beer
Saint Dolly Blonde Bock
Brewed with Zuper Saazer hops, this wonderful addition to Wild Heaven's "Exploration Project" pays tribute to national treasure Dolly Parton. I love a great Bock lager, and this one from Wild Heaven offers a smooth, clean, malty German lager experience that's reminiscent of toasted bread crust and light honey. Pair it with apple strudel.
Wild Heaven Beer
High Hopes Mango & Plum Sour Ale
This beer forms a part of the brewery's intriguing "Innovation Sour Series." Look for mild tartness with earthy complexity from smoked mango and black plum. This unique wild ale also boasts papaya-like fruit notes and an peaty, smoky, ashy profile in the finish. Head to either Wild Heaven locations to score a rare bottle.
Three Taverns Craft Brewery
Transcendo IPA
Double dry-hopping with Citra, Mosaic and Loral hops provide an earthy, citrusy, fruity character to this complex and delicious IPA. Loral hops impart herbal, dank fruit notes reminiscent of mango and tangerine that linger into the pleasant, spicy finish. Try a Transcendo alongside Mexican cuisine.
Three Taverns Craft Brewery
Cush IPA
Talented Atlanta brewer Neal Engleman made the move from Bold Monk to new head brewer and wood cellar manager at Three Taverns, and he's excited to get creative with a line of new brews and tweaked classic recipes. Neal's first new beer at Three Taverns is Cush - a fantastic double dry-hopped hazy IPA with lactose and
8.5% ABV. A powerful nose of citrus and tropical fruit notes follow through into the soft, creamy mouthfeel.
Rightside Brewing
Citrus Wheat
Rightside Brewing is a new Georgia company focusing on producing a line of flavorful and complex non-alcoholic "near beers." Launching with an IPA and a Citrus Wheat ale, the company hopes to provide customers with exciting, flavorful beverages that are just as satisfying as beer styles containing alcohol. Rightside's hazy Citrus Wheat offers tasty notes of cereal grains, orange peel, spice and a hint of banana complexity.
Southern Brewing Company
Midnight Train Southern Porter
This crisp, coffee-like dark ale from Athens, Georgia comes in at 6% ABV and paints a landscape of roasted and chocolate malts on the palate, followed by an elegant, mild hop bitterness. Midnight Train makes for a wonderful session ale to enjoy with friends and sip alongside grilled oysters or clam chowder.
Terrapin Beer Company
Vanilla Chai Latte Wake-n-Bake
Need a caffeine boost with your beer? Check out Terrapin's new-fangled Wake-n-Bake that comes in at 9.4% ABV and 50 IBUs. This bold imperial stout contains vanilla, lactose and chai spice that all meld with Jittery Joe's Wake-n-Bake coffee to create an extraordinarily thick and warming oatmeal imperial stout. The extensive malt bill includes two-row, crystal 85, flaked barley, flaked oats, chocolate, black malt and roasted barley.
Creature Comforts Brewery
Life in Flux
Life In Flux, Creature Comforts' flagship barrel-aged imperial stout, emerged from the brewery's barrel cellar recently. Creature's spin for this year's 500ml bottles includes two limited-release variants of the main blend - Life In Flux with vanilla and coffee and Life In Flux with coconut and cocoa nibs. "Life In Flux is a blend of straightforward barrel-aged stout that represents the core philosophy of our spirits barrel-aging program," says Blake Tyers, director of Creature Comforts' Wood Cellar & Mixed Fermentation Program. "The exquisite depth created from the simple combination of the barrels, beer and time makes it a do-not-miss blend."