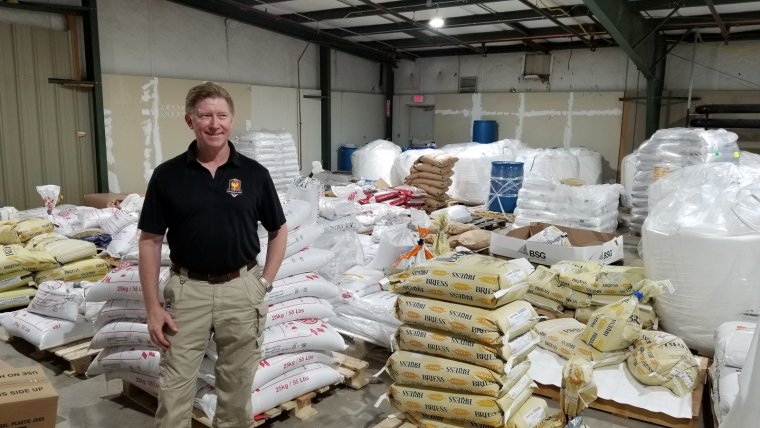 Ironshield's Glen Sprouse in the brewery's malt storage room.

Ironshield Brewing
394 N. Clayton Street, Lawrenceville, Georgia
770-882-2171
www.ironshieldbrewing.com
By Owen Ogletree
In our modern craft beer world filled with offbeat trends and unconventional styles, Ironshield Brewing focuses much of its energy, passion, and determination in the creation and promotion of classic beers that showcase outstanding technical merit and appeal. How does this young Georgia brewery market these traditional beers? Education is the key.
Glen Sprouse, Ironshield's founder and brewmaster, expresses amazement that many of his taproom patrons have never tasted many styles of authentic German-style lagers. Ironshield's taproom servers discuss the fascinating histories of these beer styles and provide tasting samples. More often than not, this creates a new appreciation for Ironshield's beers and expands the drinkers' horizons.
Sprouse fell in love with German lagers at quite an early age. "I was raised in an army family, and we seemed to live in all the towns with 'fort' in the name," he explains. "I remember being a kid in Stuttgart, Germany, with my family touring wineries and breweries on the weekends. I had my first sip of helles lager at five years old, and, even at that young age, I thought it was wonderful."
Sprouse's brewing roots in the Atlanta area run deep. He started Phoenix Brewpub in 1996 and stayed with the brewery for a time after it became Five Seasons Brewing. The restaurant aspect of the business made for a constant source of frustration for Sprouse. Upon leaving Five Seasons in 2008, he transitioned into brewery consulting and automation while putting together a grand plan for his dream brewery. Ironshield Brewing eventually opened its doors in mid-2020, with COVID creating enormous challenges. Ironshield made it through the rough parts of the pandemic by using its vast, well-equipped brewing facility for contract brewing for other companies.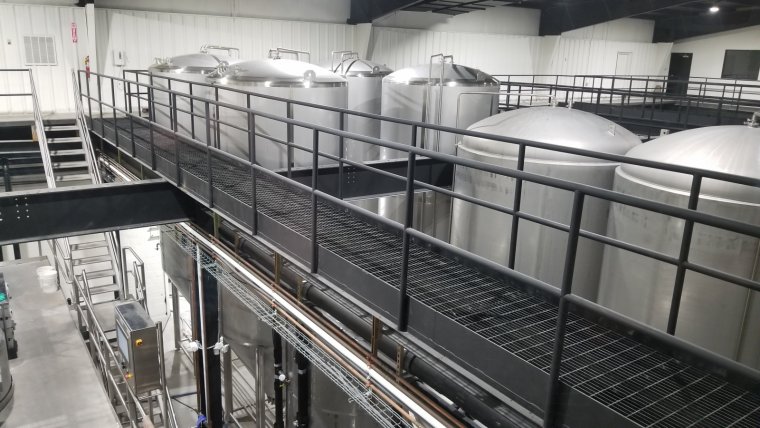 Sprouse adds, "Our contract business dried up a bit when the fall COVID shutdown took place, but it took off again in early 2021 when we increased our contract volume six-fold in four months. Right now, we are at capacity with contract brewing, and this keeps the tanks full. Our Ironshield beers are doing extremely well too, with our taproom business doubling in the last six months."
Ironshield's flavorsome house beers showcase traditional, high-quality ingredients that come together in mouthwatering fashion. Flagship examples include Karneval Kolsch, Heroes Helles, Seven Sisters Munchner Lager, Half Cork'd Irish Red Ale, Sgt. Mackenzie Scottish Ale and Nitro Dry Irish Stout. Ironshield's 7% ABV Warhammer Maibock debuted in the early spring of 2021 with an outstanding malt profile and alcohol warmth, and the luscious lager quickly became one of the brewery's best-selling beers. So as not to ignore trends completely, Sprouse also plans to release a hazy New England-style IPA called Hop Legends.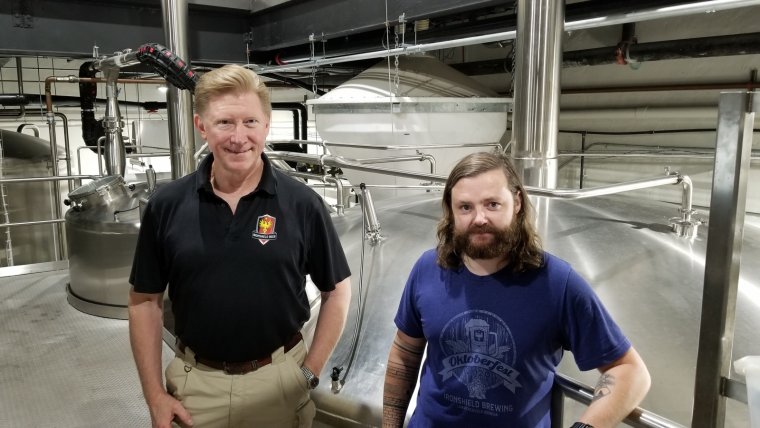 Glen Sprouse and Jason Carroll
Jason Carroll, Ironshield's head brewer, hails from Cork in Ireland and lists a ton of brewing experience on his impressive résumé. Carroll contributed valuable insight into the formulation of Ironshield's Irish red ale and nitrogenated stout, and he worked with Sprouse at his home kitchen table in the early days to plan out brewery automation and recipe formulation. "I met Glen Sprouse when I worked at a brewery in Peachtree City where Glen was a consultant," Carroll recalls. "We took the Ironshield concept from something raw to something solid and productive. The experience has been rewarding, and our beer has been solid from the first batch. We love keeping traditional styles on the forefront and educating customers as to why these styles are so worthy of attention."
Part of what draws Sprouse to classic lager styles stems from the fact that these beers exhibit an impressive range of aromas and flavors simply from the four traditional Reinheitsgebot ingredients of water, malt, hops and yeast. Sprouse explains, "Lagers are complex, yet subtle. The challenge in making a great lager is that every single step must be correct. Lagers show every fault and take longer to produce, so we must have more tanks for lagering and keeping up our volume. We also believe that filtering our lagers produces sparkling clarity and allows the beautiful malt and hop profiles to shine through."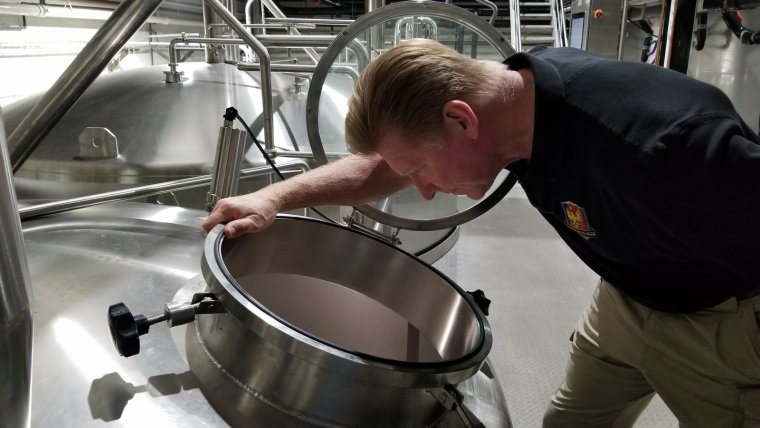 Master brewer Glenn Sprouse checks the progress of a brew.
October 2 saw Ironshield's annual Oktoberfest celebration take place in the taproom and beer garden. Patrons loved the German food trucks, traditional music and décor, and Sprouse's sublime Oktoberfest lager served in traditional steins.
Sprouse holds esteem and affection for Ironshield's staff and customers. "Our gifted staff has been a blessing," he says. "It has been tough finding workers during these challenging times, but our people show up, get things done and love our customers. We don't really go for a certain customer demographic, as we want everyone to share a love for our beers. Most of our regulars are more mature, but it doesn't take long for younger beer drinkers to come to Ironshield, fall in love with our beers and feel at home."