By Owen Ogletree
"By seeking and blundering we learn."
-- Johann Wolfgang von Goethe
We like to think of craft brewers as sudsy rock stars who crank out batch after batch of award-winning, creative, mouth-watering, perfect brews. In reality, craft brewers sometimes screw up, with many tanks of experimental brews going down the drain each year. Even Dogfish's Sam Calagione can run down a list of dozens of new brews that just didn't make the cut - like his infamous, salted, sour ale brewed with snail meat and shells. He swears that "Escar-gose" sounded like a bright idea at the time.
The best brewers and brewery owners examine and analyze all aspects of mistakes and work hard to see blunders as valuable learning experiences. This article features memorable missteps of four southeastern brewers who turned adversity into advantage. Check out the "Big Bang Theory" inspired titles...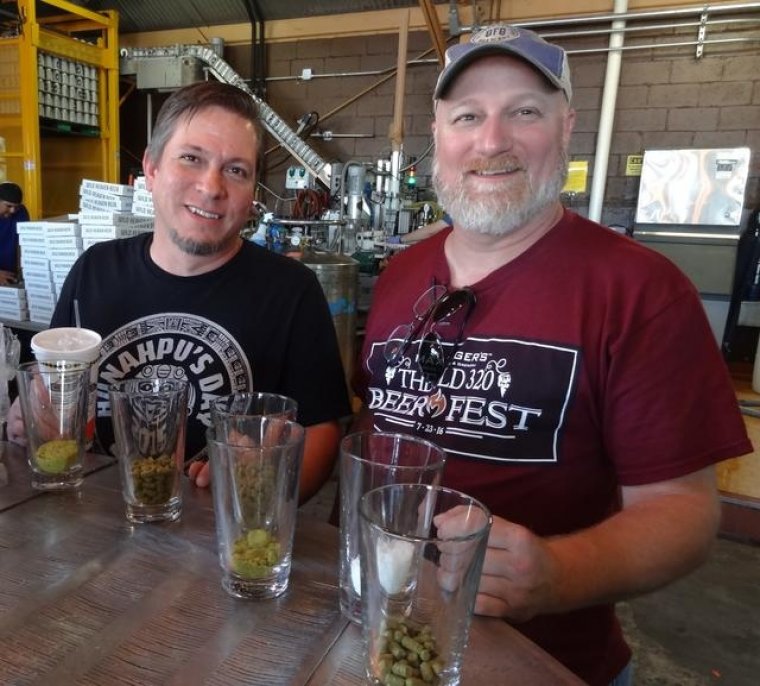 Wayne Wambles (left) and John "JR" Roberts collaborated on a special brew at Wild Heaven Beer in Georgia.
Cigar City: The Open Fermentation Excitation
It was a sweltering summer day in Tampa in 2011, and Cigar City's Wayne Wambles had installed a 30-barrel, non-pressurized tank with a loose metal lid in the back corner of the brewery to ferment Guava Grove sour ale using the local Saint Somewhere yeast. A few days later, Wayne noticed that a couple of bottles in every new six-pack of Jai Alai IPAseemed to be infected with a touch of funky Brettanomycesyeast.
"The open fermenter of sour Guava Grove was located right next to the packaging line," notes Wayne. "This was a pretty terrible idea. Brett was spreading around, and the sanitizing solution in our bottle washer was not set strong enough to killBrett, only to do a basic sanitization and rinse. Some bottles were getting an unintentional dose of Brett, and this led to aBrett Jai Alai that was delicious but not something we wanted in our Jai Alai six-packs."
Up until this point, most procedures at Cigar City were done by feel and instinct. The Brettanomyces infection convinced Wayne and the entire crew that Cigar City needed a quality control lab. "We brought in a consultant with a PhD in brewing microbiology," Wayne recalls. "He explained the lab processes that we needed, and we eradicated the Brett issue. Without this infection, I don't know how much longer it would have taken to get our lab going. The infection was pivotal in wrapping our heads around scientific quality control."
Cigar City now owns a wide array of lab equipment that includes a PCR analyzer. Instead of plating a beer sample on growth medium and placing it in an incubator for several days, the PCR machine carries out DNA sequencing of any wild yeast and acid-producing bacteria in the beer sample and determines in just a couple of hours if an infection exists. This has proven invaluable in keeping the brewery's beers in top condition.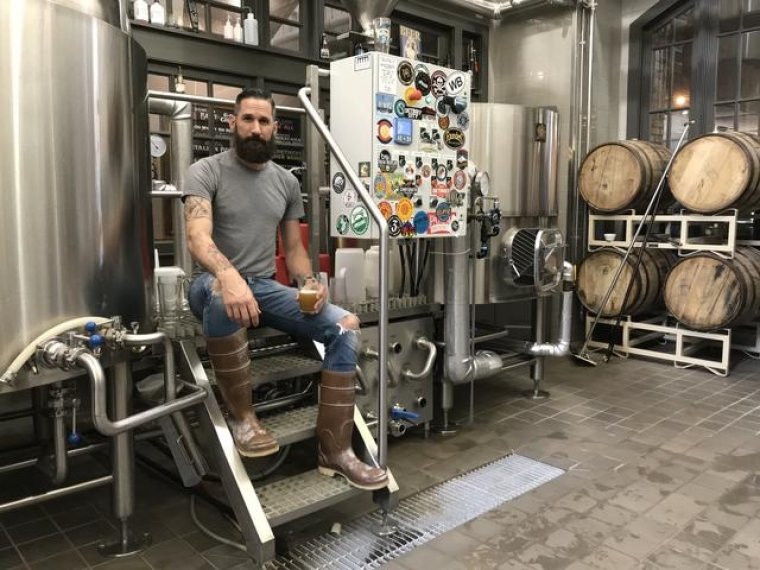 Old Rail brewer Matt Horney produces an outstanding range of classic beer styles in his Mandeville brewpub.
Old Rail Brewing: The Thermal Deviation
Brewer Matt Horney's beers at Old Rail brewpub in Mandeville, Louisiana are widely considered to be some of the finest in the state, but when the brewery was being constructed, the build-out consultant claimed that due to lack of space, a cold liquor (water) tank was not necessary.
"After working in larger production-style breweries in the South I knew that not having a cold liquor tank would be a major mistake," Matt recalls. "With city water temperatures reaching 90 degrees in the hot Louisiana summer, I quickly found how hard it was to cool our wort. The original system used glycol that would supposedly supplement the city water in the cooling process. We had a two-stage heat exchanger, but the glycol just couldn't keep up. It was ridiculous."
Matt's wort cooling was sluggish, the glycol system was stressed and the filtered water that passed through Old Rail's heat exchanger and collected in the hot liquor tank (HLT) exceeded the HLT tank's volume. Matt notes, "We were losing precious filtered water, and this was gut-wrenching, not economical and didn't make environmental sense. After some searching, I found two large poly tanks that could provide ample cold water. We now cool faster, recapture all our water, create less stress on the glycol and have cold water for other processes. The takeaway is to design your system with the local climate in mind and make sure all of your brewing needs are met."
Max Lager's: The Face Bang Collision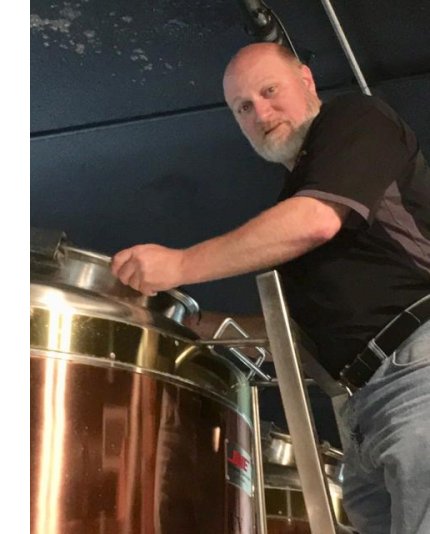 The now successful and popular Max Lager's Wood-Fired Grill & Brewery in Atlanta always seemed to be a little ahead of its time, and it was a struggle just to keep the doors open in the early years. In 2002, brewmaster and managing partner John Roberts (a.k.a. "J.R.") was holding down multiple duties at the brewpub that included brewing operations, floor management and kitchen supervision.
J.R. learned a painful lesson in 2002. "I was always stressed with hours of daily work and minutes to do it," he says. "One day I was transferring a beer into a serving tank. I finished a bit early and decided to clean the source tank before I had to work the floor for lunch. I opened the bottom drain, dumped the yeast and sediment, and assumed the tank was empty. I climbed the ladder to pop open the top manway to begin rinsing. On the way up, I noticed I hadn't opened the racking port to ensure pressure was off the tank. The pressure gauge was on zero, so instead of being safe, climbing back down and opening the racking port, I decided to go ahead and open the manway."
J.R. had barely cracked the seal on the manway when he heard a deafening hiss followed by a boom like a cannon being fired. The manway blew open and caught J.R. directly in the jaw. "I shouted 'F%$K! I've broken my jaw!' When I stood up I felt blood rush across my chin and neck. After six hours of bleeding on an emergency room floor, I got eight internal and eleven external stitches where the manway had split my skin down to the bone. I felt like I had gone eleven rounds with Mike Tyson. After a few days and a few strong pain killers, I went back to the brewery to see that my chin had actually bent the steel manway."
The injury reinforced in J.R. the principle that safety in a brewery should always come first. No matter how much there is to do, safety procedures should never be rushed. J.R. also learned he was pretty good at taking a punch.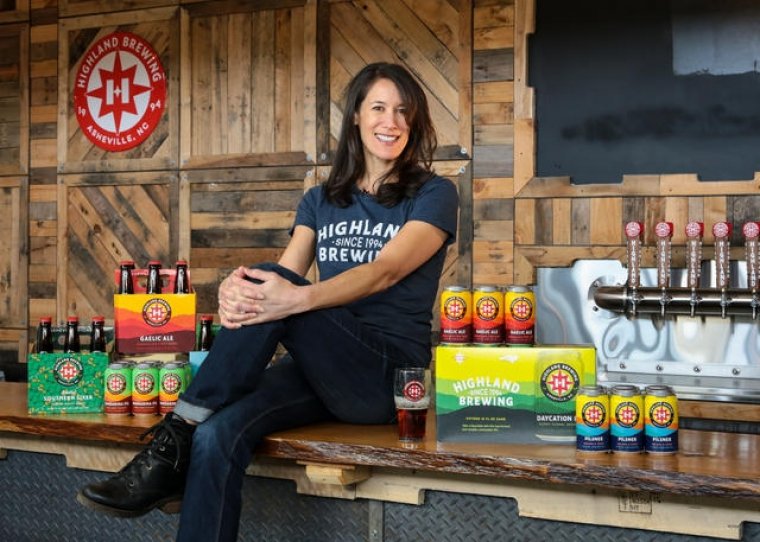 Highland Brewing's president Leah Wong Ashburn proudly displays her lineup of rebranded ales and lagers. Photo courtesy of Highland Brewing.
Highland Brewing: The Head Brewer Departure
After taking over the reins from her father and becoming president of Highland Brewing in 2015, Leah Wong Ashburn began plans to revitalize and rebrand the pioneering Highland beers. In August of 2017, Leah sat in her office looking over new beer brands and label ideas when Highland brewmaster Hollie Stephenson walked in with unexpected, distressing news. Hollie told Leah that she had accepted the head brewer position at the new Guinness facility near Baltimore.
Considering Hollie's successful two and a half years at Highland, Leah had no idea that her brewmaster might be looking for other prospects. Leah points out, "A great opportunity simply fell into Hollie's lap. When she told me she was leaving, we both cried for a minute, and then I was in a panic. We are still friends and we love Hollie very much, but I felt a deep loss. My mistake was that I wasn't aware she was looking for something that she wasn't getting at Highland. We moved so far ahead with Hollie that it was easy for me to be content and happy, and I stopped asking enough questions about improving relationships and operations."
When Hollie departed, Leah began tightening up the job description of Highland's brewmaster and soon realized the advantage of having multiple people fill the role and work together. "Our brewers love to make new, creative beers," notes Leah. "With more than one lead brewer, we now get the best creative outcomes with multiple sources of input and ideas, and our new brewing team is simply brilliant. The company now feels more engaged about what's brewing in our pilot system, and we have involved the entire staff in this renewed creativity. Mistakes can be stressful and scary, but with creativity and teamwork, mistakes often lead to innovation."