Brewery Profile:
Biggerstaff Brewing
Atlanta, GA
By Owen Ogletree
Located in the up-and-coming Edgewood neighborhood near downtown Atlanta, Biggerstaff Brewing ranks as one of the city's newest craft breweries. Nope, the name doesn't mean what some people might think. Rather, Biggerstaff refers to a family name of co-owner Clay Davies' wife, Sarah. With beers named after current family members and the farming ancestors of the owners and brewer, a strong focus on family seems to make up a central philosophy of this welcoming brewery and coffee shop.
"A few years ago, we visited the Biggerstaff family farm in North Carolina," explains Clay Davies. "I immediately thought that this would be a great name for a brewery. Our beer names and farm-fresh food items with a southern slant are all inspired by family."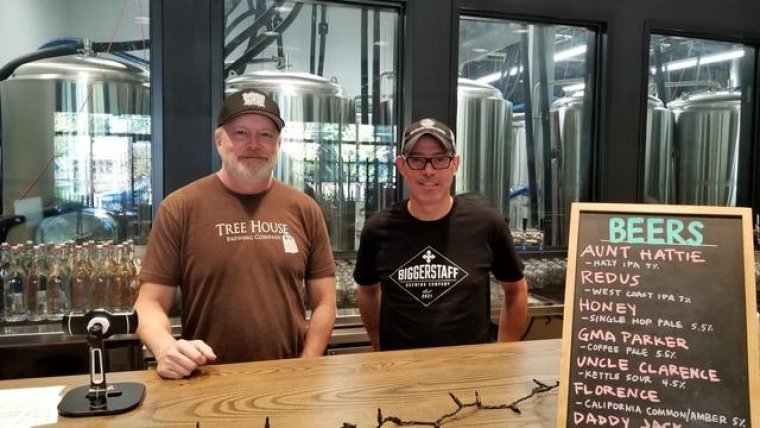 Biggerstaff's co-owner Clay Davies (left) and brewer Chris Collier.
Family Roots
Clay Davies' son Cole somehow became interested in homebrewing when he was only 13 years old and immediately got his father involved in the hobby. Cole, a world-class barista with experience in all the top coffee places in Atlanta, now runs the coffee program at Biggerstaff Brewing. The coffee counter located just inside the front entrance opens each morning, providing customers and neighboring business people with delicious wake-up beverages. Don't worry - the beer taps also open each morning around 10 am, making Biggerstaff an ideal start to an Atlanta brewery crawl.
John "J.R." Roberts of Atlanta's Max Lager's and Bold Monk brewpubs consulted with Davies during the early stages of purchasing and installing brewing equipment. When the time arrived for hiring an initial brewer, J.R. immediately thought of award-winning Atlanta brewer and beer judge Chris Collier who was instrumental in making tasty beers at North Carolina's Nantahala Brewing and getting Hopstix brewpub established in Chamblee, Georgia. "I met with Clay and Sarah just as the company where I worked closed its doors," Collier recalls. "It was good timing for me to help out with Biggerstaff. The pandemic prevented us from opening in a timely manner, so I just stayed on full time."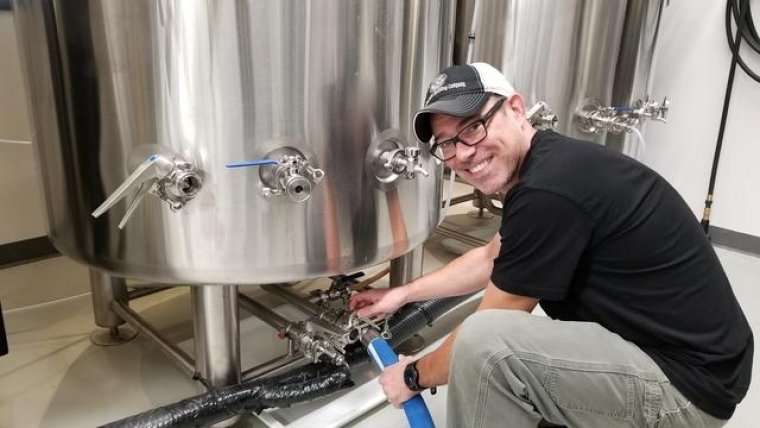 Biggerstaff brewer Chris Collier prepares a transfer in the brewhouse.
Creating the Brews
Collier has enjoyed assembling and learning the nuances of Biggerstaff's sparkling new 10-barrel Deutsche Beverage Technology brewhouse from North Carolina. He adds, "We also have 20-barrel hot and cold liquor tanks, five fermenters and seven brite tanks. I've been impressed with our glass lauter grant device that sits just off our mash tun and prevents compaction of the mash and allows access to runoff as the mash gets lautered and sparged."
Collier's Biggerstaff beers shine with impressive balance, drinkability and distinctive hops, and the initial recipes include two IPAs and two pale ales. Also, look for a smooth and flavorful kettle-soured ale, a California Common, dry stout and pilsner. " My goal is to have three or four hoppy beers on at all times. I've also done some kegged variations that include a Citra hopped pale ale dosed with our house coffee from Intelligentsia. The result was a nice light ale with a beautiful coffee backdrop and finish. I like to have some hazy beers on tap, but our West Coast-style IPA with 75 IBUs is also one of my favorites."
Biggerstaff's attractive facility includes a beer garden/patio out front, a coffee stand and an open and airy main seating room with the brewery visible through the glass windows behind the bar. With decor combining industrial with farmhouse, the modern walls of Biggerstaff's seating areas are decorated with antique doors and botanical designs.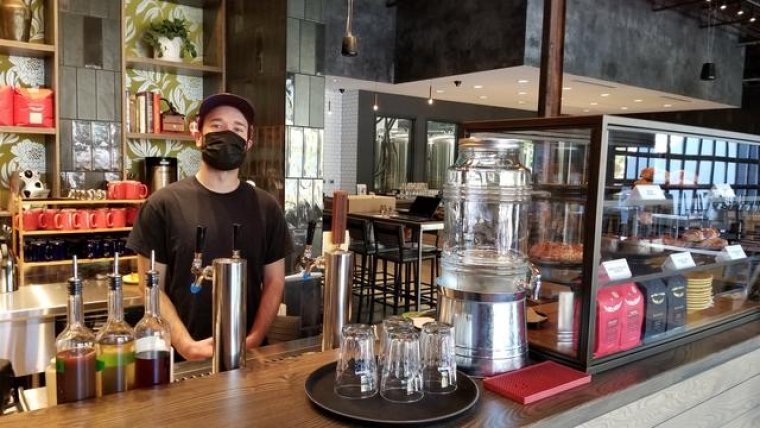 The brewery offers a fully stocked coffee counter.
Can't Live on Beer Alone
During the construction of Biggerstaff, Clay Davies met chef Ryan Smith from the award-winning Staplehouse restaurant next door. Since COVID, Staplehouse has transitioned into a provisions market, and Ryan Smith provided input and an extraordinary influence on Biggerstaff's food menu. Davis King, Biggerstaff's new executive chef, has valuable experience at acclaimed Atlanta restaurants The Optimist and Bacchanalia. "Davis makes the ideal chef," notes Clay Davies. "He is upbeat, charismatic and passionate about food, and we are so proud of our menu at Biggerstaff."
Patrons can pair Collier's exceptional beers with Biggerstaff food items that include smoked Vidalia onion rings, pumpkin soup, roasted oysters, smoked brisket sandwiches, slider burgers, honey butter ribs and shrimp & grits. The owners want the food to be just as good as the beer. "Biggerstaff takes a crossover/marriage approach between the kitchen and brewery," says Chris Collier. "The kitchen reduces our beer down to use in some recipes, and our amazing onion rings have a batter made with our pale ale. We even produce our own malt vinegar. Our dry stout reduced down with some maple syrup makes a delicious flavoring for our coffee, and the kitchen added a yuzu fruit dish to pair with our special yuzu sour ale."
Challenges and Rewards
Of course, COVID formed a frustrating obstacle that prevented Biggerstaff from opening on time. It was June of 2021 and the city office that handles permit approval was understaffed, slow and backlogged. "September 15, 2021 was supposed to be our grand opening," Collier recalls. "The license finally came through the morning of our opening - just in time. We also waited forever on our brewing license that arrived less than a month before our opening, so we brewed for five straight days. It was a crunch that didn't allow time to reflect on the first batches - we just had to get the tanks filled."
Davies and Collier both agree that their hard work and patience while weathering the challenges were well worth it. Biggerstaff ended up better than both of them imagined, and the entire staff enjoys being a part of the exciting growth and development happening in Atlanta's vibrant, revitalized Edgewood neighborhood. Area residents and neighborhood business owners constantly come into the brewery and thank Davies and Collier for choosing Edgewood as the home for Biggerstaff.
Davies adds, "The most rewarding thing for me has been talking to customers about our beer and being honored by everyone's responses as they enjoy the beer, food and vibe that makes Biggerstaff special. People really get happy and love our beer."
Biggerstaff Brewing Company
537 Edgewood Ave SE
Atlanta, GA 30312
(404) 796-9919
www.biggerstaffbrewing.com
This article appeared originally in Southern Brew News.