Remember to grab some take-home beer from your local craft breweries. These businesses need your support right now! Look below for nine great regional beers that Owen has enjoyed in mid-May 2020...
Creature Comforts / Burial Beer
Culture Keepers Maibock
A Creature Comforts / Burial Beer collaboration, Culture Keepers is a delicious, 7% ABV Maibock lager with classic German malt complexity, a honey-like note and floral noble hops. This amazing lager is not an easy style to make, but Creature and Burial nailed it. Four-packs are now available at Creature's contactless, drive-through area at the Athens brewery.
Orpheus Brewing
The 12th Labor
Wow! This 13.9% Imperial Stout aged in bourbon barrels offers smooth, viscous flavors of chocolate, espresso, black malt, dark fruit and vanillin from barrel-aging. Use caution, as this delicious, potent brew that's made with Belgian abbey yeast and dark candy syrup goes down way too easy. Drink it with rich cherry cobbler or burnt ends of brisket.
Orpheus Brewing
Transmigration of Souls
The original 10% ABV version of Orpheus' popular double IPA has returned! Pick some up now at the Atlanta brewery. The guys at Orpheus say, "Transmigration of Souls is an irresponsibly hopped Double IPA, bursting with life from an absurd amount of aromatic hops." I agree. This is a well-constructed, malty, boozy IPA with exceptional hop character.
Wild Heaven Beer
Don't Stand So Close to Me
This German-style lager that's brewed with Saaz and Hallertau hops makes for a wonderful, sessionable tipple that's clean, refreshing and packed with classic German flavors. The deep golden beer offers a tasty noble hop character in the finish that pairs well with brats, seafood and white pizza.
Wild Heaven Beer
Fauci Spring Acai Pale Ale
This new pale ale is brewed with acai berries and experimental hops so new that they don't even have a name yet. Named in honor of Dr. Anthony Fauci, this extremely pleasant pale ale showcases additions of acai berries that hold a high antioxidant quality and interesting flavor profile.
Atlanta Brewing Company
Conjuring Cultures - Ode Brugge
The brewery only has a few remaining 500 ml bottles of this amazing mixed fermentation red ale made with tart cherries. This well-crafted tart ale took me back to Flanders, Belgium with its complex, fruity nuances backed by beautiful malt and a wild fermentation character that's smooth and complementary of the dark fruit notes. This is a must-try beer.
Atlanta Brewing Company
Hartsfield IPA
Here's a 6.2% ABV India Pale Ale with an elegant hop profile featuring Citra, Mosaic and an additional rotating hop variety. I love a delicious, no-nonsense IPA with crisp hop flavor and appealing bitterness, and Hartsfield fits the bill. Enjoy it alongside grilled meats or a juicy cheeseburger and fries.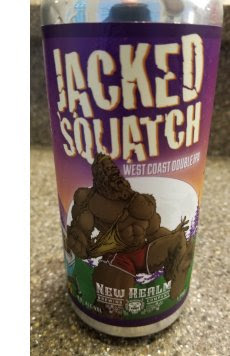 New Realm Brewing
Jacked Squatch
Do your best to get your hands on this elusive canned release from New Realm. Jacked Squatch is a flavorful, West Coast Double IPA with 9.5% ABV, a gorgeous malt backbone, complex esters and a beautiful hop profile that provides deep hop aroma, flavor and pleasant bitterness. Being a West Coast-style IPA, this ale is only slightly hazy and contains no distracting lactose additions. It's definitely one of my new favorites.
Highland Brewing
Rising Haze IPA
This unfiltered IPA from Asheville comes in at 7% ABV, packing gorgeous hop flavors from Mosaic, Ekuanot, Galaxy, Apollo, Citra and Centennial. Look for juicy notes of orange, grapefruit, tropical fruits and apricot. This is a wonderful beer to pair with spicy foods like Mexican, Cajun and Indian.