"No man is an island entire of itself; every man is a piece of the continent."
-- John Donne, English poet
Article by Owen Ogletree
Printed originally in
Southern Brew News
Creative and scientific talents were in full gear at London's hip Beavertown Brewery last September. Beavertown owner Logan Plant (son of Led Zeppelin's Robert Plant) had invited Cigar City brewer Wayne Wambles over for a collaboration brew, and Wayne's analytical mind sprang into action. While Beavertown brewers ran around gathering hops and crushing specialty grains, Wayne looked over water chemistry statistics while explaining to Beavertown's lead brewer Cosmo Sutherland why he thought the brewery's water should be modified for the special, collaborative beer. Without batting an eye, Sutherland followed Wambles' recommendation.
Wambles also brewed at Adnams Brewery in Southwold, England the week before, and Adnams' head brewer Fergus Fitzgerald also found it easy to follow Wambles' suggestions. "I really enjoyed the technicality that Wayne brings to brewing," noted Fitzgerald. "It's tempting to talk about brewing in simple terms, but Wayne is one of the few brewers I know who is keen to discuss technical details from the latest research."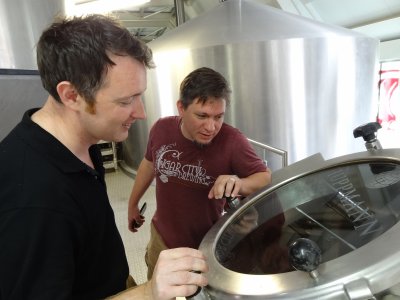 In addition to Wambles, two other brewers from the Southeast have traveled recently to the British Isles to engage in a bit of teamwork. John "J.R." Roberts, brewer and co-owner of Atlanta's Max Lager's Wood-Fired Grill & Brewery, set up cooperative brews with buddies at Ireland's Rye River Brewing and Galway Bay Brewery. Terrapin's Brian "Spike" Buckowski headed to England a couple of years ago for a cask ale collaboration with the UK's massive Wetherspoon pub chain and Everards Brewery in Leicestershire, followed by an Irish joint brew at Eight Degrees Brewing in County Cork last February.
Cooperation Builds Creativity
Buckowski ranks international collaborations as one of the most enjoyable and rewarding aspects of his career. "Besides the fun and excitement of being in a different country and seeing the sights, getting to know the host brewers and seeing their particular breweries in action is the best part of collaboration for me," he said. "Working on the recipe together via email is always a fun adventure as well."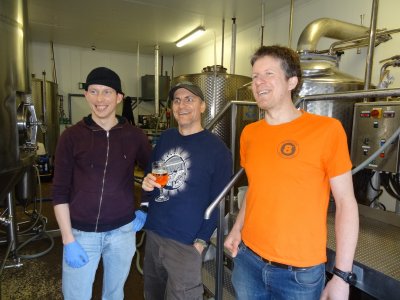 Buckowski insists that rye be a part of the grain bill in all his collaborations, and at Eight Degrees in Ireland, he helped create a 6% ABV black rye IPA with Cascade, Simcoe, Citra, Mandarina Bavaria, Amarillo and Mosaic hops. Eight Degree's co-owner Scott Baigent explained, "We had so much fun with the collaboration with Spike. We merged Spike's well-known love of rye with Ireland's love of the dark stuff and came up with something that was dark, spicy and bitter. The beer got a great reaction in Ireland."
At the award-winning Rye River Brewery in Ireland's County Kildare, Max Lager's John Roberts co-formulated a Belgian-style pale ale with pilsner malt, wheat, oats, grapefruit zest, grapefruit juice and Ekuanot hops. This might have been the first use of a Belgian yeast strain in the brewery. Roberts pointed out, "It's interesting to feel the sense of American influence and newness that craft beer has in such an old country steeped in tradition. The Irish approach craft beer like they approach most things - with joy and pride, with just enough sarcasm to keep things honest."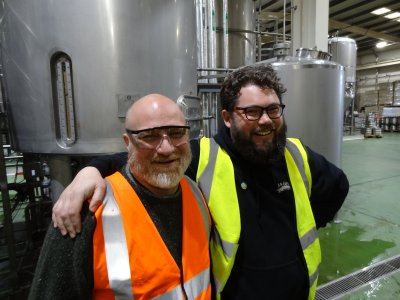 Information Flows Both Ways
Roberts was fascinated by Rye River's use of slaked lime in relation to the pH of the finished beer. "UK and Irish beers generally have a much lower pH than one would expect," he said. "Alex at Rye River makes adjustments to buffer the water and keep pH somewhat higher, which has a profound effect on hop character and drinkability. It's not something I've seen done before, but I'm stashing it in my bag of tricks."
Rye River's Alex Lawes credits Roberts as one of his original inspirations. "We first met while I was still a homebrewer looking to go pro," Lawes explained. "J.R. took me under his wing for the day at the brewpub and answered all my numerous questions. It was pretty great that when we met again we'd be brewing on my kit in Ireland, and it was a lovely, fuzzy feeling all around."
Creating a Diversity of Flavors & Styles
Wambles' frequent journeys to the UK stem from his intense love of British cask-conditioned ale. "The UK is one of my favorite places on Earth to drink beer," Wambles shared. "It's rare to find a country that is built on an abundance of full-flavored, sessionable beers."
In contrast to session beers, Wambles' group effort at Beavertown resulted in an imperial porter infused with coconut and cocoa. Originally wanting to make a beer featuring a unique UK candy that tastes like chocolate and orange, Wambles and the Beavertown crew decided eventually to move in a different direction, concocting a dark base beer with intriguing tropical notes - like a strong English porter with a touch of Cigar City and Florida. A portion of the beer is also being aged in rum barrels.
At Adnams, Wambles and Fitzgerald came up with
Two Bays Oaked Pale Ale
that's similar to Cigar City's
White Oak Jai Alai
. The beer circulated through a special infusion system holding wood spirals in a closed tank to minimize oxidation and preserve hop character much better than simple barrel-aging. The American-inspired pale ale came out at 4.5% ABV with a fruity hop character complemented by toasted oak notes. Fitzgerald added, "There is an energy about craft beer in the U.S. that up until recently was unique in the beer world. I think this has migrated to the rest of the world now."
Keeping Up with Progress
Will Avery, former brewer for Burnt Hickory in Kennesaw, Georgia, now runs the brew kettles at Galway Bay Brewery in Ireland. Last February, John Roberts and Avery put together a delicious India dark lager with Mosaic hops, pilsner malt, midnight wheat, and Munich and melanoidin malts. "Some might think that this beer is too much lager for an IPA, while others might consider it too hoppy for a lager," commented Avery. "Collaborations give us a chance to not only hang out as friends and peers, but have a flow of information. At the rapid pace that brewing is progressing, it's nice to talk about new processes and ideas."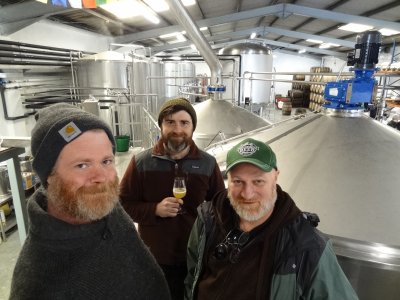 Beavertown's Logan Plant shared, "To me, collaboration is sharing knowledge and experience, creating a new vision, or attacking and dissecting an old style. Beer really is an endless vista, a blank page. Collaborating should always be about pushing one another as brewers into new realms, learning from each other's experience in creating something unique and stimulating."
Enthusiastic craft brewers seem to have no trouble connecting, getting along and sharing ideas around the world, and craft beer makes the perfect catalyst for collaboration and friendship. On John Roberts' last night in Galway, he was at a pub with Will Avery and the late Dan Rosen who wanted to start MAZURT brewery in Atlanta. "Dan was calling it a night, and when he went to give Will a hug goodbye, one or the other spilled a pint," Roberts recalled. "The bartender mopped up and grabbed a fresh pint - all while Will and Dan were still hugging. The bartender looked at me with a sly Irish grin and said, 'It's turning into a bloody romantic moment over there.'"
For videos featuring all these collaborative brew sessions, check out the author's YouTube channel.